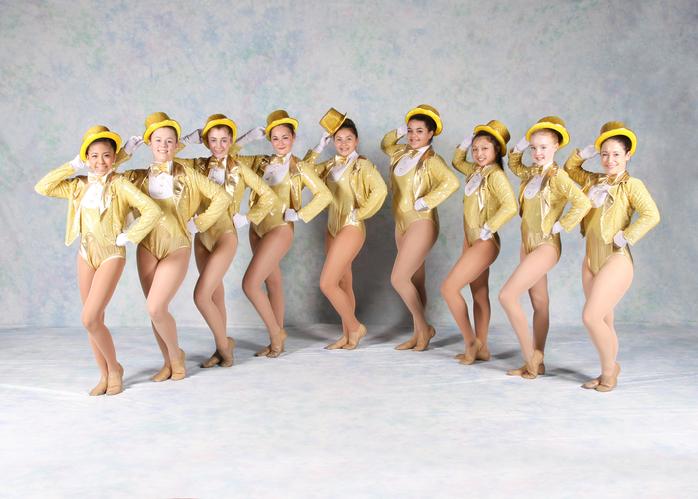 ADVANCED JAZZ - ONE
Just a little word from the Director:

I believe that dancing is not just about execution and technique but also the love of the art. I want each student to feel fulfilled at the end of each class. At Bridget's Dance Studio I will strive to recognize each students talent and help them reach their full potential. If a student is not comfortable in a class they will not learn to love the art of dancing. Therefore, all students will be placed in classes that are age and skill level appropriate. If the teacher feels the student should try a different level then please understand it is for the benefit of the student. It is my goal to provide each student with a fun and challenging environment that encourages artistic growth.
All children and adult class prices are on the tuition page.
| | | |
| --- | --- | --- |
| TIP TOES AGES 3 - 4 | LET IT GO | BASIC DANCE - BALLET AND TAP |
For the Tiny Dancers:
Little Groovers: Ages 3 (must turning 3 within your session)
This is a great class for the little one at home that loves to pretend. Little groovers runs in 3 month increments and does not have a recital. It is a creative movement class that also introduces children to a semi-structured dance class environment. They learn skills such as sharing, colors, rhythm, respect, hand eye coordination and more. Parents are encouraged to let the child participate on their own but we understand some children at this age may need some help at first. There is no recital involved in this class and they do not have to remember a routine.
Tip Toes : Ages 4 (must be 4 when class begins)
This class teaches basic locomotive skills with creative movement while keeping them focused through music and class participation. This class will develop muscle, coordination, flexibility and familiarize children with early dance terminology. This class is also a great way to get children used to a fun and exciting class environment. Students that have taken one year of Tip Toes Ballet can then take Ballet and Tap. There is a recital at the studio for tip toes students and their is a costume required.


Class Length: Ballet & Tumbling 45 Minutes



Basic Dance I and II: Ages 4.5-6 (younger students should take Tip Toes first)



For kindergarten - 2 grade children. This class expands on the skills learned in Tip Toes or is also a great beginner class for those children who have not taken dance yet. They will learn to combine steps and movement with music while enhancing their dance vocabulary. Basic Tap will also be introduced at this level.A combination class that will teach basic skills of classical ballet and tap. Each style will be broken up into 1/2 hour increments. This is a perfect class to introduce a child to different styles of dance so they can increase their knowledge. Students will participate in the year end recital and only need to purchase one costume for both styles of dance.
Basic II is the next level after Basic I.
Class Length: 1 Hour
| | | |
| --- | --- | --- |
| BOYS HIP HOP | PRIMARY BALLET, TAP, JAZZ | ELEMENTARY BALLET, TAP, JAZZ AGES 8+ |
| | | |
| --- | --- | --- |
| INTERMEDIATE BALLET, TAP, JAZZ AGES 9+ | ADVANCED BALLET, TAP, JAZZ AGES 12+ | LYRICAL AGES 9+ |
For the Curious Dancers:
All of these classes are listed as Ballet, Tap, and Jazz. A student does not have to take all three styles. For example a child that is 8 years of age with 2 years of dance experience could just sign up for Primary Tap and Jazz and not Ballet.


Primary Dance: (Ages 8 -10)

This class is an extension of Basic Dance. Even if the student has not danced before they will learn the essentials to continue their dance education in this class. It will include traditional center work for ballet. They will advance their tap skills with rhythmic music choices and develop a stronger more flexible body in jazz. Each style of dance will be 1/2 hour long. If a student does not want to take all three they do not have too, but it is strongly recommended.

Class Time: Ballet 1/2 Hour, Tap 1/2 Hour, Jazz 1/2 Hour
Elementary Dance: Ages 10+ (must have 2 years dance experiece in Primary)
This class is for younger children that have either done two years of Primary dance or older children that are either in there first or second year of dance. It is very similiar to Primary but will challenge the student with more technique and start to test their ability, agility, stamina, and memory.
Tap 1/2 hour, Ballet 45 minutes, Jazz 1/2 hour . If a student does not want to take all three they do not have too, but it is strongly recommended.

Intermediate Dance: Ages 12+ (Students should be approved for Intermedaite dance and have atleast 4 years of experience in each style.)
Intermediate dance is for the student that has danced before and understands basic technique. This is the class that will start to push the student to becoming an experienced versatile dancer. Turns, leaps, and jumps will be stressed in this class as well as flexibilty and more difficult choreography that will challange the student to use expression and emotion.
Class Time: Ballet 45 minutes, Tap 45 minutes, Jazz 45 minutes
Intermediate Lyrical/ Contemporary : Ages 11+
Lyrical dance uses both ballet and jazz technique to tell a story with the lyrics of a song. Musicality, expression, and fluidity of the body are key components of lyrical dance. Students must be enrolled in the appropriate ballet class in order to take Lyrical.
Intermediate Contemporary: Ages 11+
Contemporary is the daughter of modern dance and also encorporates technical elements found in ballet, jazz, hip hop, and acro. While technique is a must in all styles of dance... Contemporary often allows the dancer to be free and experiment with the way their body moves in the style. Enrollment in the appropriate ballet class is required in order to take Contemporary.
Class will combine both styles for an original recital piece.
CONTEMPORARY AGES 9+

DANCE TEAM

DANCE TEAM
Intro to Hip Hop and Hip Hop: (Ages 5+)
Starting with break-dancing, Hip hop has become a very popular style of dance. It continues to grow and change frequently with the fads of music. All ages and all levels are welcome to take Hip Hop. They will learn choreography that is similar to those seen on MTV music videos and performed by popular recording artist and "back up" dance troupes. Students love this class because they can express themselves to music they are familiar with. Each class will be separated by age group. Don't worry parents..... music, choreography and recital costumes will be age appropriate!

Class Length: 30 Minutes
This class will take basic floor gymnastics and incorporate them into a choreographed routine. This class helps improve students flexibility, body control, balance, team work and agility. Any student enrolled in Acro Dance must also take Tumbling skills class. The proper class for your child is based on what tumbling skills they can execute and not always determinded by age.
| | |
| --- | --- |
| | HIP HOP AGES 5+ |
bridget@bridgetsdancestudio.com 781-848-6500 Braintree & Norwell, MA